By bike along the Berlin Wall
Want to combine business with pleasure by combining urban spirit and active holidays? In 2019, Germany is celebrating 30 years since the fall of the Wall in the whole country. For the occasion, come to Berlin and discover the capital from a new angle by cycling along the wall that separated the city for 28 years.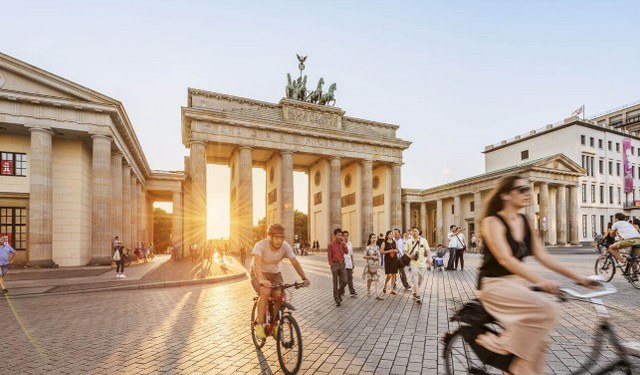 Following the Berlin Wall Cycling Trail is a reminder of the Cold War between East and West. The route most often follows the « customs trails » to the west and the « Kolonnenwege » used by the GDR border guard troops. It passes along the old watchtowers, next to museums and memorial sites, crosses the current centre of Berlin and follows the route of the old wall around the capital.
This mixture of nature and tragic history makes this bike path both a thematic circuit and a natural environment circuit.
Whether at the « barter post » of the Glienicke Bridge, the place where American and Soviet spies captured are exchanged, or at Checkpoint Charlie, Berlin's most famous border post, the story of the separation is still very tangible.
The Berlin Wall Memorial on Bernauer Strasse provides visitors with an authentic and compelling view of the era of the German division.
Character: marked route from one end to the other and most often away from traffic around Berlin. Bicycle paths, generally on flat ground, are mostly asphalted, with some sections paved or covered with old concrete slabs.
Landscapes: alternating urban parts inside Berlin with quieter parts in the greenery or on the waterfront. Many historically interesting sections where you can see the remains of the wall.
Berlin Wall cycle path: Length: 160 kilometres
Terrain: generally flat, suitable for use with children
On the same subject